It is hard for us to say one month is better than another to visit Iceland, but December is exceptional. We have the Northern Lights, ideal wintry landscapes, and 13 Yule Lads to celebrate Christmas! Whether you venture out around the island or explore in and around Reykjavik, you'll find plenty to do every day you stay in Iceland.
Your Friend in Reykjavik is ready to share our favorite local spots and some shopping (and maybe Santa) secrets with you. Here are some highlights to entice you to plan your trip to Iceland, with perhaps a day or two with us in Reykjavik!
Weather in Iceland in December
December in Iceland is a genuinely wintry month. The weather usually hovers between 28°F to 39°F (-2°C to 4°C). And you should expect snow or rain. Reykjavik tends to get less snow than other parts of the country, but this doesn't mean we don't see any blizzards. We are used to this brisk weather, but you may need to pack a few extra layers. Or pick up some cold-weather gear while shopping!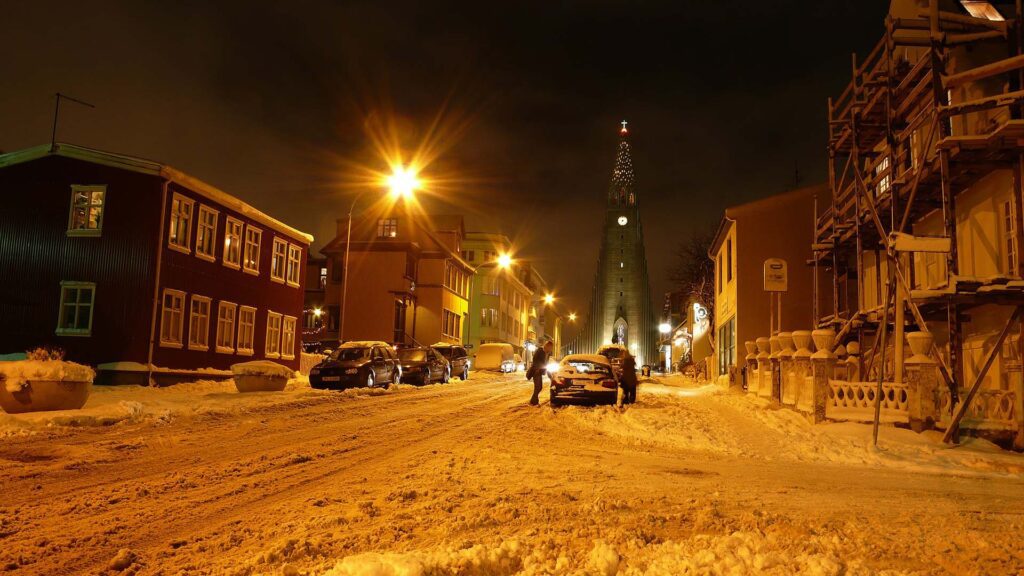 No matter the season in Iceland, we always recommend people layer up when sightseeing. It is easier to take off clothes if you're warm than to add layers if you're cold and don't have them! We recommend you either bring or buy thermal underwear, woollen socks, an extra sweater, scarf, hat and gloves. Don't forget the warm winter coat and the sturdy shoes. The Arctic wind can be brutal and the roads can be icy!
---
---
How Short are the Days in Iceland in December?
During December, the days in Iceland are extremely short. In fact, the shortest day of winter, Winter Solstice, is December 21st, at about 4 hours. Sunrise happens closer to what you'd normally consider lunchtime. Sunset seems to follow quickly after at about 4 pm. You can still pack many things to do during that daylight time. And we're used to the long nights, so join us on a Reykjavik walking tour and pick up some tips for the rest of your visit to Iceland!
The nights are long in December but full of fun and friends if you visit Reykjavik! However, the twilight also lasts longer here than in many other places due to Iceland's placement on the Earth. So even if the sunrise is after 11 o'clock in the morning, it has begun getting a little bit brighter an hour or two before.
Enjoy the Northern Light Long during December in Iceland
One superb sight when visiting Iceland in December is the Northern Lights. With almost 20 hours of darkness, you will probably experience the full spectrum of the Aurora Borealis in all its out-of-this-world glory. Even the mild light pollution from Reykjavik and the surrounding populated areas are no match for Nature's light show during this time of year. Don't forget your camera to capture this unique phenomenon.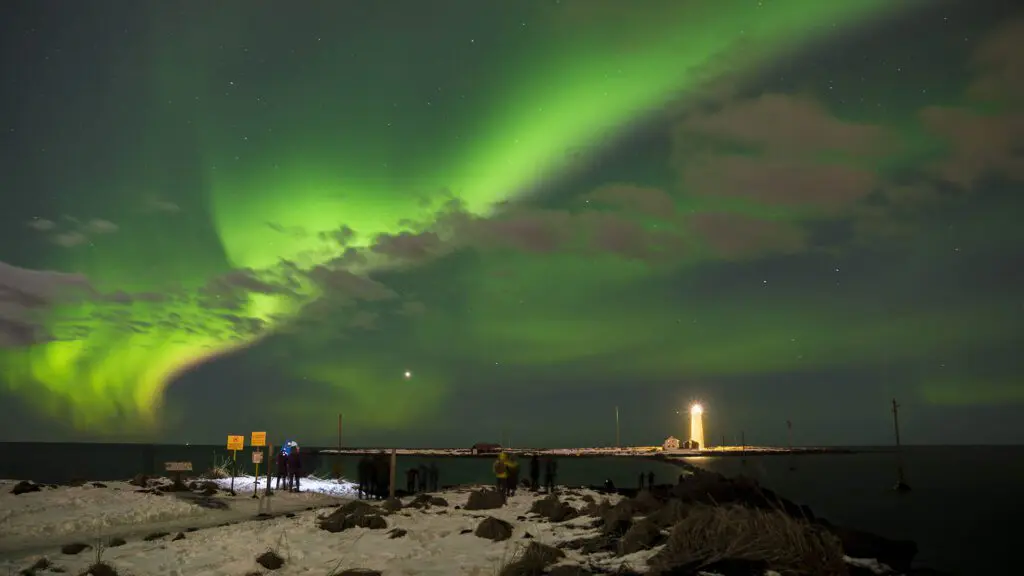 Even if you catch the Northern Lights outdoors, we still recommend you check out Aurora Reykjavik – the Northern Lights center and the Northern Lights Planetarium show in Perlan.
Christmas in Iceland is Like No Other
When visiting Iceland in December, there's an excellent chance you'll encounter one of the Yule Lads. These are our Santas – 13 brothers who take turns every night before Christmas to visit little boys and girls. Nice children get sweets. Naughty kiddies get a rotten potato! Then there is Grýla and Leppalúði, their parents – naughty children might be captured by them, but they have mellowed a lot in recent years. The Yule Cat, however, is a formidable beast, so you better get new clothes before Christmas, otherwise, it will eat you! Talking about cats, our tour Reykjavik CatWalk is a tour feline friends shouldn't miss. You will learn everything about all the famous Reykjavik cats as well as the Yule Cat!
And if you find yourself in northern Iceland, visit Myvatn Nature Baths and watch these unruly brothers take their annual bath before their holiday frolics. If you're in that part of the country, the Christmas House in Akureyri is also worth a visit.
Shop the Christmas Markets in Reykjavik
Christmas markets are more than just shopping spots in Reykjavik. They are social and entertainment centers for visitors and locals to enjoy. And you don't have to go far to find yuletide fun when visiting Iceland in December. Ingólfstorg Square goes fully festive every weekend until Christmas. Or head inland to the Christmas Market at Elliðavatnsbær in Heiðmörk. For a full Christmas experience, just 20 minutes south of Reykjavik is Hafnarfjörður, which transforms into a traditional Christmas village, complete with horse-drawn carriages and the chance to catch a glimpse of an elf or two!
Don't leave out the Christmas Village in Hafnarfjorður when visiting Iceland in December!
Top things to do in Reykjavik in December
Just because there's not a lot of daylight doesn't mean there's not much to do in Reykjavik in December. In addition to the Christmas markets, you can take to the ice with some skating in Ingólfstorg Square. Or watch the animals enjoy their sunlamps at the zoo. If the weather is getting a little too cold for you, go indoors and explore our many museums and art galleries. One way to do that is to buy the Reykjavik City Card which gives you access to many of the city's museums, art galleries, and swimming pools as well as discounts at many other places. You can choose between 24-, 36-, or 72-hour cards. It is highly recommended.
Want to relax with some local comfort food and a pint or two? We are more than happy to share our culinary scene with you on our Reykjavik food tour. You may even be tempted to try some fermented shark. Or maybe just our famous hot dogs.
Places to Visit Across Iceland in December
Visiting Iceland in December offers winter wonders of all kinds. If you're into UNESCO World Heritage sites, Þingvellir (Thingvellir) National Park, just east of Reykjavik, is stunning just for photo ops. But you can hike and even go horseback riding. Weather conditions permitting, of course. For a warmer feel, the hot springs at Krýsuvík also provide an enchanting panorama with the many colors seeming the paint the surrounding hills. You can also visit Kleifarvatn Lake and try to spy Iceland's version of the Loch Ness Monster.
Getting Around Iceland and Reykjavik
Reykjavik is a very walkable city. But if you want to rest those feet, we've got taxi and bus services available across the city. Access to the bus service is also included in the Reykjavik City Card. And if you're going to explore more than the capital, our public transport is reliable and reaches most regions. You can rent a car here for those who like more freedom to take to the road. However, you should check the weather and road conditions before heading out. And remember, you have limited daylight hours, so you should be comfortable driving in the dark if you're going to rent a car while visiting Iceland in December.
What to Pack for a December trip to Iceland?
It is winter, so make sure you have enough warm clothes packed. As stated before, we are big fans of layering. That way, you are comfortable whether you're outdoors or inside. Hiking boots and a waterproof jacket and pants should be included if you plan any outdoor activities. If you're not used to long nights and short days, you may want to consider sleep aids to get you sleeping at the proper time. And maybe an extra alarm to help you keep your body clock regular.
Your Friend in Reykjavik Welcomes You to Walk Our Winter Wonderland!
Traveling to Iceland in winter is a spectacular experience. Your Friend in Reykjavik invites you to join in the fun during this most festive time of year! Chase the Yule Lads around the island, then see the holiday antics in full gear in Reykjavik. Make the most of your visit with one of our many walking tours, or give yourself a holiday treat with the specialized service on our Reykjavik private tours. Not sure which is best? Contact us today! We'll be happy to make suggestions so that you have the best time visiting our winter wonderland!