To visit Iceland in January is to enjoy wintry weather without it being too cold but with the possibility of blankets of snow. There are fewer crowds but with some genuinely unique festivals and holidays. The days are short, but that means a better chance of seeing the Northern Lights!
Your Friend in Reykjavik invites you to begin the new year in Iceland. Join us for our midwinter celebrations and witness Iceland as a winter wonderland! 
Iceland's January Festivals
Christmas and New Year's may be over in other countries, but we still have a little more celebrating to do in Iceland, especially in Reykjavik. On 6 January, we light bonfires to commemorate the Epiphany as well as Þrettándinn. Go on our folklore tour and ask about the elves and their appearance during this holiday!
Þrettándinn – The Thirteenth Day of Christmas
There has been a strong tradition of literally celebrating the last day of Christmas with a bang. Bonfires are lit like on New Year's Eve, and people blow up the last of their fireworks from the New Year's celebrations.
When Icelanders changed their calendar from Julian to Gregorian, there was a bit of confusion as to when Christmas started and ended. In calendars and among the public, 5 January was called the Old Christmas Day. Due to this date confusion, folklore connected to New Year's Eve and Christmas can also be found on Christmas's last day. This is also the day when the last of the Yule Lads, Kertasníkir, goes back home.
It is said that cows will get the ability to speak like humans, but it is important not to listen to them. You will most likely lose your mind. Seals change form into humans; bewitched humans will finally get their human form again. The hidden people (or elves) moved house on this day as well.
One story of a man who sat down at crossroads to meet the elves moving houses. They kept coming to him and offering him great treasures. He never said a word, and they left their offerings by him each time. This went on all night, but lastly, a woman came who offered him melted fat which he loved. Instead of just waiting for her to leave, he said, "I have never been able to say no to that", and all his treasures disappeared. He was able to tell people what had happened, but not much more. He lost everything, his mind and livelihood.
Until 1770, the day was an actual holiday, but the Danish king felt Icelanders had too many days off and made it "un-holy", so to speak. Other holidays Icelanders lost with that pen stroke were the third day of Christmas, the third day of Easter and the third day of Whitsun (we still have all those "second day of" days).
Dark Music Days
If you are around during the end of the month, head over to Harpa for Dark Music Days, celebrating Icelandic musicians and composers. It is one of the oldest music festivals in Iceland, first held in 1980 and planned by the Icelandic Composers' Association. The emphasis is to perform and introduce contemporary classical music, especially Icelandic and foreign works and performers.
Reykjavik International Games
You may want to check out the Reykjavik International Games for a little more action. The games were held for the first time in 2000, with 3000 participants from more than 45 countries. Competitions took place in 20 different disciplines ranging from karate, athletics, swimming and weightlifting to climbing, darts and cross-fit. Enduro cycling and e-racing is also a part of the games.
The competition is spread over two weekends with the addition of a conference which is also a part of the program.
Þorri – the Icelandic Midwinter festival
We haven't forgotten a truly Icelandic holiday in mid-January, Þorri. Since it involves a great feast, we've saved it for our "what to eat" section below!
The mid-winter feast Þorrablót is held in the month of þorri, but the first day is called bóndadagur or husband day. The day is dedicated to the husband. The first day of þorri begins on a Friday between the 19th and 25th of January. You can read more about þorri and þorrablót here.
Northern Lights in Iceland in January
With only five or six hours of sunlight every day, Iceland's long nights in January provide many opportunities for you to catch the Northern Lights. But you need to go out on a clear night, so check out the forecast from the Icelandic meteorological office to see where to go to avoid cloud cover and get the best view.
No matter if the weather is on your side or not, we recommend you check out the Aurora Reykjavik – The Northern Lights Center in Grandi and the Áróra Northern Lights Planetarium Show in Perlan.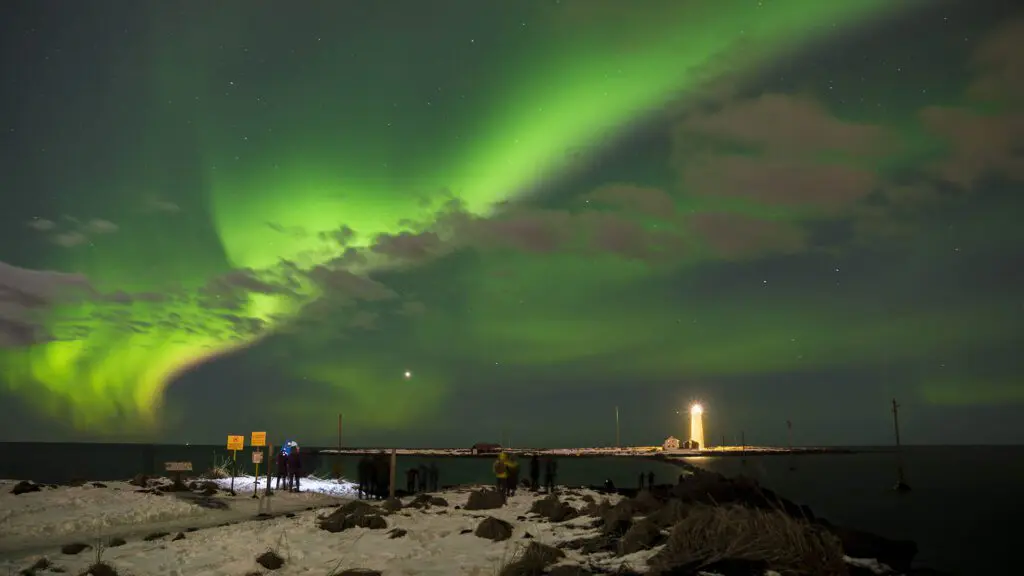 Best things to do in Iceland in January
Iceland's landscape is gorgeous any time of year, but January is particularly stunning for blue ice. Blue ice forms on glaciers when there's considerable snowfall compacted against the surface. Because of weather and science, we get spectacular blue glaciers that make for even more picturesque hikes, such as at Sólheimajökull. For even more incredible ice cave explorations, the crystal ice caves at Vatnajökull are worth the visit. Please be sure to go on a tour with a certified guide as it can be dangerous to travel on the glaciers.
January is a perfect time to try local cuisine in Reykjavik
Þorri is the midwinter festival here, falling on the fourth month of winter in the Norse calendar. The first day of þorri is Husband's Day, and the first day to hold þorrablót. Originally, the feast was to celebrate Thor, the god of thunder. Today, we just eat traditional Icelandic food, drink brennivín and be merry. This is when we serve up local favorites like the fermented shark and sour ram's testicles. If there's a great time to try the exotic of our local cuisine, this is it!
Other delicacies include svið, hangikjöt, sour ram testicles, blood suet and liver sausage. Read all about it here.
Weather in Iceland in January
When planning to visit Iceland in January, it is important to know that it is cold, with average temperatures ranging from 27°F (-3°C) to 37°F (3°C). The average snowfall in January is about 7.8″ overall. There can also be storms and strong winds, so it is important to pack warm clothes. We always recommend people layer up because it is cold outside but warm inside.
Woollen undergarments are probably your best insulation. Then it's the sturdy shoes, hat, scarf, mittens and, of course, a warm winter jacket.
The days in January are short, but they are slowly becoming longer as the Winter Solstice has passed (it's on 21 December). Daylight is only about five to six hours, with sunrise between 10 and 11 in the morning.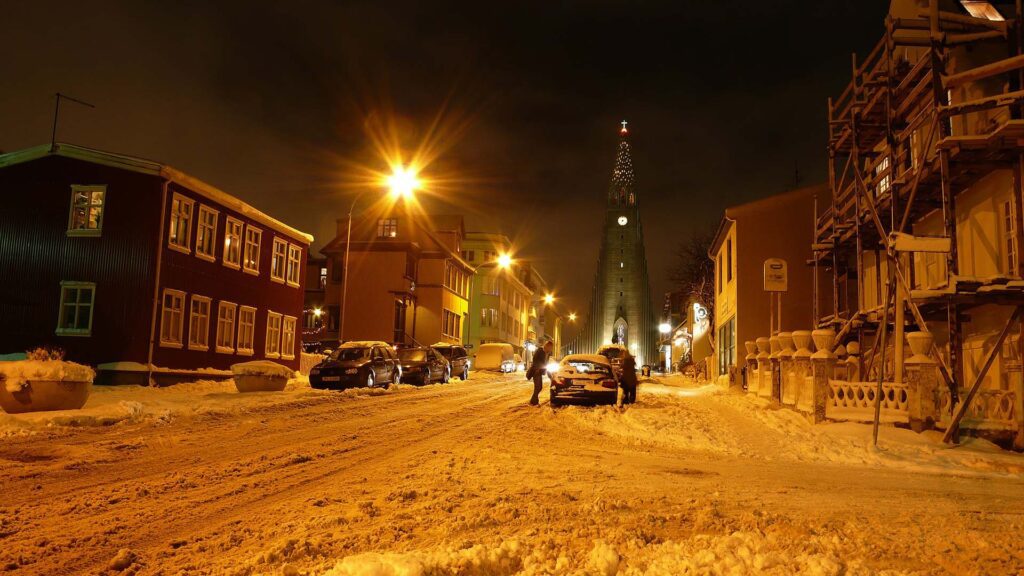 What to pack to visit Iceland in January
As we have already stated: make sure to pack for cold weather. It may go without saying, but we like to emphasize this. However, you can also go on a bit of a shopping spree if you find you didn't bring enough layers. Also, make sure you have watertight bags and waterproof boots if you plan on heading outdoors. A swimsuit might also be a good idea since a hot spring experience surrounded by snow should not be missed! Reykjavík (and the rest of the country) also have a lot of geothermally heated swimming pools.
Reykjavík Swimming Pools
There's nothing quite like lying in a hot tub in the freezing cold. It is a bit breezy getting into the hot tub from the dressing rooms but what doesn't kill you only makes you stronger, as the saying goes.
Reykjavík has seven geothermally heated swimming pools within its borders. There are 18 swimming pools in total in the capital area. The swimming pool in Laugardalur is always a favourite, as is Sundhöll Reykjavíkur. You can rent both swimwear and a towel in most swimming pools, but it is, of course, better to just bring your own. Most swimming pools also have public changing rooms and showers, but a few might have private rooms. The changing rooms and showers are separated between men and women.
Start the new year with Your Friend in Reykjavik!
Your Friend in Reykjavik has a range of walking tours to show you all the wonders of Reykjavik. We will ensure you make the most of your trip, whether you want to eat your fill or fill your Instagram!
---
Please signup HERE for our newsletter for more fun facts and information about Iceland!