When traveling in Iceland, you need food. You're maybe renting an Air BnB or staying in a guesthouse; you don't have breakfast, lunch, and dinner included in your price… so you need food. But at the same time, you don't want to spend a fortune going to the fanciest restaurants every day.
You have a busy day of sightseeing ahead of you,
We have already told you about how expensive Iceland is, but without delving too deep into how much things cost.
Pastries and other baked goods
Like any good city, Reykjavik has bakeries. They're not on every street corner, but you won't have to walk (or drive) far to reach one.
Bakarameistarinn
Bakarameistarinn (The Master Baker) is one of the biggest bakery chains. It opened in 1977 and is in 9 locations. They are your typical Icelandic bakery, where you can find everything you should see in a bakery.
Kleina 335 ISK
Kleinuhringur 395 ISK
Danish Pastry Strip 1090 ISK
Bread roll with ham, cheese, and vegetables 765 ISK
Snúður 430 ISK
Soup of the day (in a bread bowl) 1390 ISK
Brauð & co
Brauð & co is one of the newer bakeries in Iceland and is extremely popular. Their bread is sourdough, and everything else is made from high-quality organic ingredients. They've grown quite quickly since opening in 2016 and have shops in eight places. If you're in a hurry to get out of town, we recommend checking out their site on Laugavegur 180. It has a drive-through!
It is possible to order packages for 2-4 people, 5-8 people, and 9-12 people. These packages could be good if you're going out on the road.
Package one (2-4 people) includes:
1 sourdough bread
1 Tuna salad
2 cinnamon buns
2 croissants
Costs: 3517 ISK
Package two (5-8 people) includes:
1 sourdough bread
2 tuna salads (one regular and one with chili)
2 cinnamon buns
2 vanilla buns
2 croissants
2 croissants with ham and parmesan
2 Danish pastries
Costs: 7373 ISK
Package three (9-12 people) includes:
2 types of sourdough bread
2 tuna salads (one regular and one with chili)
3 cinnamon buns
3 vanilla buns
2 croissants
2 croissants with ham and parmesan
½ Danish Pastry strip
2 x 700 organic apple and/or orange juice
Costs: 11122 ISK
Apart from their delicious bread, their "snúðar" are probably the most popular items. They have cinnamon, vanilla, caramel & muesli, and vegan cinnamon. They cost 590 ISK.
Deig
Deig bakery is one of Iceland's newer bakeries. Situated in Tryggvagata by the harbor, it is not your regular bakery. The founder was raised on the east coast of the US, so it has a heavy American influence.
Donuts and pastries 450 ISK
Bagel sandwiches 1100-1300 ISK
Hot bagels 1400-1600 ISK
The poor man's offer: Filled bagel, doughnut/sweet pastry, and a drink of your choice 1100 ISK
Sandwiches and juices
It is easy to grab a sandwich and juice at Joe and the Juice or Lemon for a quick bite. Both places offer healthy sandwiches and juices made on site. Then there's Subway.
Joe and the Juice
Juices: small 890 ISK large 1150 ISK
Sandwiches 1390 ISK
Lemon
Juices: small 990 ISK – large 1190 ISK
Sandwiches: small 1050 ISK – large 1690 ISK
Offers at Lemon:
large sandwich and large juice 2490 ISK
small sandwich large juice 2090 ISK
small and small 1890 ISK
combo of the month large sandwich large juice 1790 ISK
Subway
I doubt we need to introduce Subway to you. Still, Subway opened in Iceland in 1994 and is in 16 locations around the country (most in the capital area).
Offers:
Large Family offer: three 12″ subs, two 6″ subs, one 2l soda, 5 cookies – 5999 ISK
Small family offer: two 12″, two 6″, one 2l soda, 4 cookies – 4999 ISK
6″ subs from 1099 ISK, 12″ from 1749 ISK
Sub of the day: 6″ 1099 ISK, 12″ 1549 ISK
Pizza
Of course, Icelanders love pizza! Domino's is the most popular pizza chain in the country. If you're a fan of deep-pan pizza, we recommend you check out Domino's or Pizza Hut. There is one Pizza Hut place in Hafnarfjörður. They have an offer of a large deep-pan pizza (choice of three different types) for 1590 ISK if you pick it up.
Most pizzerias sell Italian or a "regular" pizza like Domino's.
Domino's Pizza
Domino's is in 23 places around the country and has an app and a site where you can order from. A large pizza from Domino's ranges from 3290 – 3990 ISK (a margarita costs 2450 ISK). They have many different offers, ranging from two for one (of every pizza with two toppings) if you pick up to large group offers (two large pizzas from the menu, two side dishes, two dips, and 2 L soda).
Flatey Pizzeria
Flatey is an Italian pizzeria, and say they make pizzas like in Naples, Italy. They are in four locations. Their pizzas are about 10-12″. Their prices range from 1890 – 3090 ISK.
Blackbox Pizza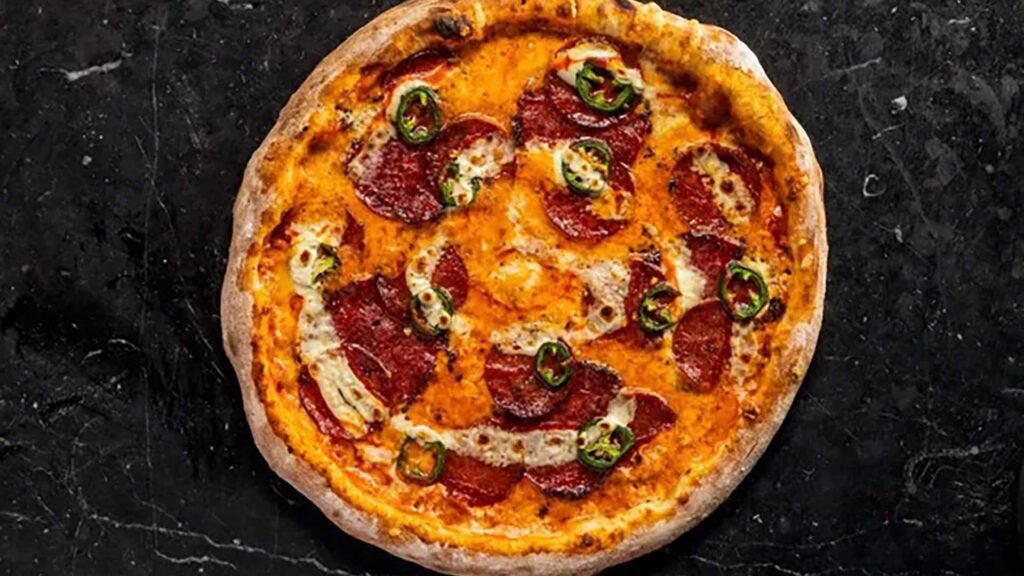 Blackbox pizza is in two locations, Reykjavik and Akureyri. All their pizzas are made with sourdough, but it is possible to get keto and gluten-free pizzas. The pizzas are about 12″ and cost between 2850 – 3200 ISK (margarita costs 2000 ISK).
Pizzan
Pizzan is another chain pizzeria with 8 places around the country. Their pizzas range from 3450 – 4390 ISK. Like Domino's, they have many different offers in place, mainly for pick-up. If you order one large pizza from the menu and pick it up, you pay 2690 ISK. The King Offer includes:
Four large pizzas.
Two packs of breadsticks.
Two portions of sweet rolls.
Two 2 L sodas for 14990 ISK.
Then there's everything between.
Spaðinn is in one location. Their 16″ pizza costs between 2490 and 3090 ISK. They only have pick-up and have no special offers.
If you know and like Sbarro, you'll be happy to know you can also find it in Iceland. It is in 10 locations, mainly in the capital area but also Keflavik Airport and BSI Bus Terminal. Their pizzas cost between 2850 and 3150 ISK (margarita costs 2150 ISK). But if you just want one slice, it's 990 ISK with soda.
Coffee
Coffee is the fuel of humans. Or something. At least for many. You can check out our post on the Best Coffee Shops in Reykjavik, but sometimes you just want a takeaway.
Coffee: 490-790 ISK
Hamburgers
Icelanders LOVE a hamburger. Like pizza, it is hard to mess up.
Metro Hamburgers
Metro is Iceland's Mcdonald's. We used to have Mcdonald's, but it went bankrupt in the 2008 financial crisis and got Metro instead. It's in the same place as the original McDonald's and is basically the same. Just more expensive. Their hamburger meals cost 1990 ISK, but a single cheeseburger costs 629 ISK. Their version of McFlurry, called "Flörrí," costs 649 ISK.
Tommi's Burger Joint
You can find Tommi's Burger Joint in 9 locations in Iceland. And then three locations in England, three in Berlin, and one in Copenhagen, Denmark. It's a popular burger joint and does exactly what it says on the tin. The offer of the century (one 120g burger, fries, and soda) costs 2290 ISK, and a chicken burger meal costs 2690 ISK. A family offer (2 regular burgers, 2 children's burgers, large fries, 2 L soda, and 2 dipping sauces) costs 5950 ISK.
Hamborgarafabrikkan
Hamborgarafabrikkan is another popular hamburger place. Many of the burgers on the menu have been made in collaboration with famous Icelandic people, and their restaurants only play Icelandic music. They are in three locations. Their burgers come with fries or salad and range between 2799 and 3199 ISK in price.
Honorable mentions: Yuzu, Gastro Truck, Lebowski bar, Sæta Svínið.
Random plates around the city
Fresco and Local sell salads you can either buy from the menu or make yourself. Local salad has both small and large salads and they range between 1590 – 2390 ISK (small), and 2090 – 2890 ISK (large). Fresco salads have one size and the prices range between 2300 – 2600 ISK.
Chickpea is a small family-run restaurant (and takeaway) with nutritious and authentic food made from scratch every day. There you can get a falafel wrap for 1890 ISK.
A falafel wrap at Mandi, one of Reykjavik's most popular kebab shops costs 1590 ISK
At Mama Reykjavik, a great vegan restaurant in downtown Reykjavik costs 2390 ISK.
We hope this list gives you some idea of what it costs to eat out in Iceland.
Please signup HERE for our newsletter for more fun facts and information about Iceland!