Searching for the best coffee shops in Reykjavik can be a daunting task because there are quite a few. Icelanders love their coffee, and we don't need Starbucks to drink a lot of the black stuff!
We are consistently in the top three seats per capita in coffee consumption (we love measuring everything in Iceland per capita!).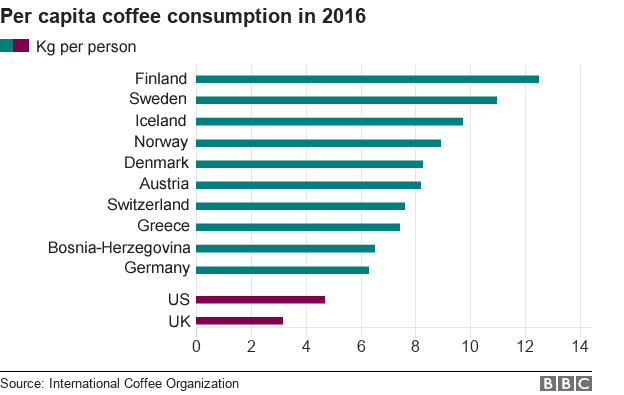 Maybe it's the darkness & cold in the Nordic countries, but we sure like our cup of coffee.
As a bonus, you could get a local seer to tell the future base on the leftover coffee in your cup. No, it's not a joke, and I will tell you more about that tradition below.
Here is a list of my favorite coffee shops in downtown Reykjavik.
Reykjavik Roasters
My favorite coffee shop in Reykjavik is, without a doubt, the wonderful Reykjavik Roasters coffee house. They have four coffee houses now. They roast their coffee on-site, and some of it comes directly from the farmers. However, they have to rely on intermediaries a lot of the time. In their case, it is an importer who is located in Europe.
Their first coffee shop is on Kárastígur 1 and originally opened under the name Kaffismiðjan in 2009. However, in 2013, when the place underwent renovations, they changed the name to Reykjavík Roasters. It is close to Hallgrímskirkja Church, so it's the perfect spot to stop after checking out the church.
Opening hours:
Mon-Fri: 08:00 – 17:30
Sat-Sun: 08:00 – 17:00
Three locations: Kárastígur 1, Freyjugata 41 and Brautarholt 2
Their website
Mokka-kaffi
This is a favorite hangout for many artists, writers and simply lovers of good coffee since its opening in 1958. The style hasn't changed at all, and guests can admire the Mid-Century Modern interior.  I recommend the Icelandic Waffles to go with the coffee
Opening hours:
Daily from 09:00 – 18:00
Location: Skólavörðustígur 3a (red door)
Their website
Kattakaffihúsið
Iceland's first and only cat coffeehouse.
Perfect for families or simply if you are fond of having cats around while you sip your latte. There is something relaxing about playing with kittens while enjoying a hot cup of chocolate in the cold of winter. They run a kitty adoption and rescue program, so they take good care of the resident cats. If you want something to nibble on with your coffee, I recommend their sourdough bread with your topping of choice.
The coffee shop is vegetarian and mostly vegan. There are also a few rules regarding the cats, such as if they're asleep, don't wake them, don't pick them up, and if they're sleeping in a chair, it's their seat.
Opening hours:
Daily from 10:00 – 18:00
Location: Bergstaðastræti 10a
Their website
Kaffitár
With 7 locations in Reykjavik, it's easy to drop into one of their coffee shops for a good cup of coffee and a chat.  They have a pretty chilled atmosphere and usually serve great coffee, so it's a perfect place to chill for a while and read the newspapers.
They roast their own coffee and sell it to supermarkets and shops.
Opening hours:
Daily from 07:30 – 16:00
My favorite location: Bankastræti 8
Their website
The Laundromat Cafe
This coffeehouse opened up again in 2019 and families are grateful for it as this place has a rather large play area in the basement so you can enjoy your Cappuccino while your young ones enjoy themselves. As the name implies, you can also do your laundry if needed because they also supply a fully functioning laundromat in the basement. The breakfast and brunch are well proportioned.
Opening hours:
Mon-Tuesday from 09:00 – 21:00
Wednesday: 09:00 – 20:00
Thursday-Friday: 09:00-22:00
Saturday: 10:00-22:00
Sunday: 10:00-18:00
Location: Austurstræti 9
Their website
Café Rosenberg
Café Rosenberg first opened in the basement of Nýjabíó (New Cinema), where the Grill Market is now, in the 1920s. Since then, it has changed owners a few times and locations. It has not been continuously open, but there is always a common nominator: it is cozy.
It is now in a historic building in the oldest part of town and on two floors. It is decorated with old and cozy furniture, with a relaxed, fun vibe around it. It is also a great place to catch a small concert.
This is one of my favorite coffee shops to go to for a coffee when meeting someone.
Opening hours:
Monday-Sunday: 12:00-23:00
Location: Vesturgata 3
Their website
Te og Kaffi
Te og Kaffi prides itself on being Iceland's leading coffee roastery. There are 14 coffee houses in Reykjavik, so in a way, the Icelandic version of Starbucks. To be honest, their coffee shops lack a little soul but have free Wi-Fi. Their coffee is good, but their selection of pastries could use a little work.
Opening hours:
Mon-Friday from 08:00 – 17:00
Saturday-Sunday 10:00 – 17:00
My favorite Location: Laugavegur 27
Svarta Kaffið
The name translates to The Black Coffee, and it's a great little coffee shop to pop into for a coffee and even a Guinness or two. The service is always friendly, and the atmosphere is welcoming and lively.  As a bonus, they serve two excellent soups served in a bread bowl (meat or veg) that I can totally recommend.
Opening hours:
Monday-Saturday 11:30 – 23:00
Sunday 12:00-23:00
Location: Laugavegur 54
Their website
Café Babalú
A quirky place that's full of love, Star Wars-themed bathrooms and vegan options.
They have a cosy atmosphere and friendly staff that serves good coffee. What more could you ask for?  Ok, let's throw in the free Wi-Fi to make it perfect.
Opening hours:
Monday-Thursday 08:30-21:00
Friday-Saturday 08:30-22:00
Sunday 08:00-21:00
Location: Skólavörðustígur 22
Their website
Grái Kötturinn
This is an excellent choice for your first coffee of the day, and their breakfast options are great. Firstly, I recommend a dish called Trukkurinn (The Truck) is simply wonderful. Secondly, I can also recommend Croque Madame and, thirdly, Buck Rogers and the Hummus Happiness.

Due to it being in the basement of a building, it is very easy to walk past this place without noticing it as it's in the cellar of an old building, but when you find it, you will discover it's a delightful morning place to jumpstart your system before you head out into your day.
Opening hours:
Daily 08:00-14:00
Location: Hverfisgata 16a
Their website
Kaffibrennslan
The names translate to the Coffee Roaster, and its location is perfect on the main shopping street of Laugavegur. My guides and I think it's a perfect place to work, study and/or read because of its homey atmosphere.  They also have a good cup of coffee and a great carrot cake.  I recommend going up to the 2nd floor and getting a table by the window to watch the shoppers while you zip on your Espresso.
They also have a glass-building outside, so it is possible to enjoy your cup outside no matter the season.
Opening hours:
Mon-Thursday from 08:00 – 23:00
Friday 08:00 – 01:00
Saturday 09:00 – 01:00
Sunday 09:00 – 23:00
Location: Laugavegur 21
Their website
Sandholt Bakery
This place gets a friendly nod as their pastries are excellent and the coffee pretty good. It opened in 1925 and has been in the same location ever since. They serve some of the best pastries and bread in town. They're usually busy in the mornings as it's a perfect breakfast option; however, if you want a quieter time, come in the afternoon.
Opening Hours:
Daily 07:30 – 18:00
Location: Laugavegur 36
Their website
Coffee to tell your future?
When I was growing up, I remember my mother, sister and their friends studying their coffee cups, trying to tell each other what the future had in store for them.
The process is as follows:
You need a cup of black coffee (no milk and sugar), and when you have finished it, you turn your cup upside down and turn it in three horizontal circles clockwise and then counter-clockwise. Finally, you turn the opening of the cup towards you and move it in a cross in front of you, first up to down and then left to right, all the while blowing a bit at the cup and thinking about your future.
After this, you put your cup upside down somewhere (preferably on top of a radiator) and wait for it to dry. Then someone with the gift or talent can read your future from the coffee dregs that are left in the cup. True story.
I just asked my mother about this tradition, and she told me it was customary anywhere she went as a guest to turn one coffee cup or two.
If you want to learn about more Icelandic magic, we suggest you join us for our Reykjavik Folklore Walking Tour.
Please signup HERE for our newsletter for more fun facts and information about Iceland!