Consistently excellent restaurants in Downtown Reykjavik
Iceland's beauty is unparalleled. From fiery, active volcanoes, sparkling waterfalls, rugged mountain cliffs to the beautiful northern lights dancing in the sky, and the capital city of Reykjavik is nothing short of mesmerizing and diverse in her own right.
This diversity applies to the food culture as well. Being inspired by the resources and ingredients that we have available around us. Reykjavik food is fresh and pure with no artificial ingredients. Restaurants get their daily catch from the waters around them and where the meat usually comes from local farmers.
Below, we have listed ten excellent restaurants you will find in the Reykjavik city center that will not disappoint you as they have a constant reputation to excel.
Tres Locos
Experience the lively flavors of Tres Locos, a vibrant Mexican restaurant in Hafnarstræti 4, Reykjavík. With colorful decor and fresh Icelandic ingredients, their menu features a delightful selection of tacos, tostadas, fajitas, quesadillas, and more. Enjoy the inviting atmosphere and savor the fusion of Mexican and Icelandic cuisine at Tres Locos.
With an extensive menu featuring everything from quesadillas and tacos to fajitas and tostadas, Tres Locos stands out as the ultimate Mexican restaurant in Iceland. But that's not all – indulge in options like beef tenderloin, tuna, lamb rump, chicken, and ribeye.
To make the experience even better, you can choose a drink from their extensive cocktail menu.
Opening hours: Sunday to Thursday 17:00 – 23:00, Friday to Saturday 17:00 – 23:30
Website: Tres Locos
Dass
Dass is a new restaurant in town. The name means "a dash" in cooking and actually is a specific measurement: 1/8 teaspoon. The restaurant offers starters, including burrata, seafood soup, king prawns, a sharing platter and more. They also have finger foods, salads, fish, steak platters, and desserts.
We recommend you try out their duck salad, oven-baked salted fish, artic char, lamb fillet or burger.
If you only have time in the morning, there's no need to worry, as they open at 07:00 in the morning.
Opening hours: Sunday to Thursday 07:00 – 23:00, Friday to Saturday 07:00 – 01:00.
Address: Vegamótastígur 7, 101 Reykjavik
Website: Dass Restaurant
Mama Reykjavik
This is a relatively new restaurant situated on the corner of the shopping streets Laugavegur and Skólavörðustígur. Mama Reykjavík is on the top floor. We recommend their dahl dish "Dahl ala Mama": Lentil dish that tickles your taste buds. Ingredients include lentils (of course), carrots, ginger, garlic, lime leaf, chilli and lemon.
They also have dishes of the week and delicious desserts. Mama Reykjavik is definitely one of the best vegan places in Reykjavik. If you want recommendations for other vegan or vegetarian dishes, check out our blog on the best such places in Reykjavik!
Opening Hours: Monday – Thursday 9:00 – 21:00, Friday 9:00 – 20:00, Saturday – Sunday 11:00 – 21:00
Website: Mama Reykjavík
Sægreifinn – The Sea Baron
Located by the old harbor, this restaurant serves the most spectacular seafood. You should check out The Sea Baron. Its speciality is lobster soup; creamy and well seasoned, it is something that you should not miss. Maybe try a sample of the Minke Whale, too, if you are adventurous, and you will not be disappointed.
This restaurant is always a stop on our Reykjavik Food Lovers Tour.
Opening hours: Every day from 11:30 – 22:00
Website: Sægreifinn
Matur og Drykkur
This classy restaurant is quite a find. It serves traditional Icelandic cuisine with a modern twist. They use first-class produce and bring innovation into the mix. The design, the food, and the beautiful setting will exceed your expectations. Always a great stop for a foodie adventure! We love to get The Codhead and the Icelandic Blue Mussels.
Opening hours: Thursday – Sunday from 18:00 – 22:00
Website: Matur og drykkur
Café Garðurinn
This vegan and vegetarian restaurant is located at the top of Klapparstígur, not far from Skólavörðustígur.
You will find homemade vegan and vegetarian dishes, soups and cakes at Garðurinn but their menu changes weekly.
This little restaurant is on a side street between Skólavörðustígur and Laugavegur shopping streets. A perfect place to go to get a hearty meal after your sightseeing or shopping in Reykjavik's centre.
Opening Hours: Monday to Friday 11:00 – 18:30, Wednesday 11:00 – 17:00 and Saturday 12:00 – 17:00
Website: Kaffihúsið Garðurinn
Apotek Kitchen and Bar
Apotek Restaurant is situated in one of Reykjavik's most beautiful houses Austurstræti 16. It is called Apotek or Pharmacy because one of the city's largest pharmacies was operated there for decades. The house was designed by one of Iceland's most famous architects, Guðjón Samúelsson. He also designed the National Theatre on Hverfisgata and Hallgrímskirkja church. You can read more about him in our blog.
The restaurant is casual-smart, offering delicious food in a vibrant atmosphere and stylish surroundings.
The menu offers a delightful combination of Icelandic and European dishes prepared using a smoking hot Argentinean grill. It's perfect for sharing and enjoying together. Don't forget to visit the vibrant cocktail bar, where "pharmacists" create exciting cocktails, including painkillers, stimulants, tranquillisers, and even placebos.
They're open from 11:30 to 23:00 every day, so you can join them for lunch, brunch, afternoon tea, dinner and cocktails. We highly recommend their lunch offer and afternoon tea, but for dinner, we recommend you check out their charcoal grilled salmon or lamb rump steak.
Opening hours: Every day between 11:00 – 23:00
Website: Apótek Restaurant
Þrír Frakkar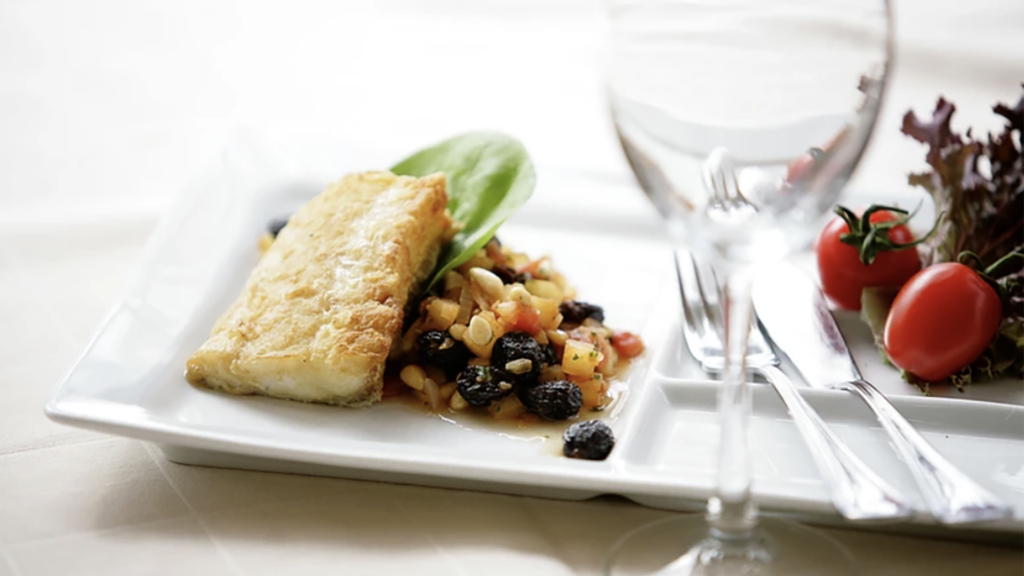 If a place is buzzing with locals when you visit a new city, then that probably means the food there is pretty good. This traditional restaurant is one of those gems. It is a golden oldie that serves all the Icelandic classics. The restaurant is cozy, and the service is very attentive. If you want an excellent local dining experience, this is the place to visit.
Owned by one of the most famous chefs in Iceland, it does not disappoint. The Lamb fillet and the Baccalá (Salted Cod) are excellent dishes.
Opening hours:
Lunch: Monday – Friday 11:30 – 14:00
Dinner: Sunday – Thursday 18:00 – 22:00 and Friday – Saturday: 18:00 – 22:30
Website: 3 frakkar
Fiskfélagið – Fish Company
This one is a little heavy on the pocket, but it serves excellent fish. Some say it's the best Sushi restaurant in the world.
Considering that Reykjavik and Iceland, for that matter, is full of options of delicious fish, it takes extra hard work to stand out. This restaurant has done just that. The atmosphere is beautiful, and the food will keep you coming back for more. Its speciality is The Around Iceland tasting menu, but I would personally go for the Sushi Festival (only served for 2+).
Opening hours: Monday – Thursday 11:30-14:30 and 17:00-22:30, Friday 11:30 – 14:30 and 17:00 – 23:00, Saturday 17:00 – 23:30, Sunday 17:00 – 22:30
Website: Fish Company
Íslenski barinn – The Icelandic Bar
As the name suggests, The Icelandic Bar serves Icelandic food with a twist. You can shark and fish jerky there, as well as a flatbread with hangikjöt. But then there are their special "hot dogs", which aren't hot dogs at all. The Icelandic lobster "dog" is worth a try: hot dog bun filled with deep-fried langoustine, bell pepper jam, lettuce, garlic mayo and Tindur cheese!
Locals and tourists alike frequent the place, and their happy hour is great!
Opening hours: Sunday – Thursday 11:30 – 01:00, Friday – Saturday 11:30 – 03:00. The kitchen is open every day from 11:30 – 22:00.
Website: Íslenski barinn
Fiskmarkaðurinn – The Fish Market
This fine-dining restaurant specializes in fish, as the name implies. It is located in Aðalstæti (the main street) by Ingólfur square, the regular meeting spot for all of our Reykjavik Walking Tours. A stop here is a real treat, and there I would suggest savouring either the Salmon or the Cod.
The service is exemplary, and the food is exquisite. We recommend booking ahead, as it is very popular.
Opening hours:
Lunch: Monday – Friday 11:30 – 14:00
Dinner: Monday – Sunday 17:30 – 23:00
Website: Fish Market
Grillmarkaðurinn – The Grill Market
The Grill market is simply a beautiful restaurant both for its atmosphere, vibes, and of course, the constantly excellent food. I would recommend the tasting menu there (served for the whole table) as it takes you on a journey around Iceland one bite at a time.
I will put this on my top 3 list if you are willing to spend a little to try the best cuisine Iceland has to offer.
Opening hours: Sunday – Thursday 18:00 – 22:30, Friday – Saturday 18:00 – 23:00
Website: Grill Market
Hressingarskálinn
This café has a long history in Reykjavik. The name means The Refreshment Pavillion. It first opened in the house, built in 1805, in 1932. It has gone through different owners and focuses, from a café to a concert place to a dance club. McDonald's was even housed there for a while. But it is back to being a cozy café again.
You can get everything from breakfast, sandwiches, and soups to main Icelandic courses such as leg of lamb, plokkfiskur, trout and catfish. Their famous cakes should also not be missed.
Hressingarskálinn is one of the stops of the Reykjavik Food Walk.
Opening Hours: Sunday – Monday 08:00 – 22:00
Website: Hressingarskálinn
Forréttabarinn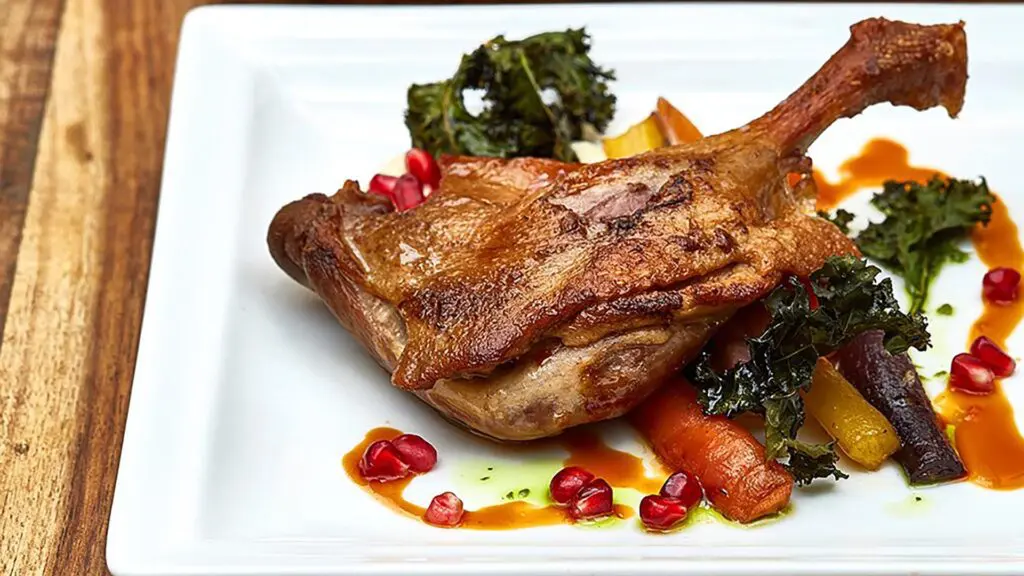 This restaurant serves starters from around the world and is located down by the old Reykjavik harbor. They offer an exciting twist to traditional dishes at reasonable prices.
The menu keeps on changing, but the quality and taste remain impeccable. We recommend picking out a couple of dishes and sharing them with your family & friends. This restaurant is one of my absolute favorite restaurants in Iceland for its chilled environment and excellent food.
Some noteworthy dishes are the lamb fillet and the delicious langoustine soup (Icelandic lobster is langoustine), but if you are adventurous, you should check out a bite of the grilled fillet of a horse.
Opening hours: 16:00 – 21:00 (the bar is open 15:00 – 22:00).
Website: Forréttabarinn
Fjallkonan
Fjallkonan has a great variety of dishes, including vegetarian and vegan options. This is a great place to stop for brunch, lunch, afternoon tea or dinner. Those with a sweet tooth won't be disappointed with their Ferris wheel full of muffins, cupcakes and other delicious sweets. They also offer a group menu for groups with 8 people or more.
Opening hours: 11:30 – 23:00
Website: Fjallkonan
Café Loki
With views over Hallgrímskirkja, this is one of the more popular stops for tourists in Iceland. But don't let that stop you – their menu is fantastic. They offer traditional Icelandic food and specialize in classic homestyle Icelandic cuisine.
We recommend getting their tasting platters, so you can taste as much as possible. But don't miss the Rye Ice Cream, it sounds like it shouldn't taste good, but you couldn't be more wrong!
Café Loki is one of the stops of our Reykjavik Food Walk tour.
Opening Hours: Monday – Sunday 09:00 – 22:00
Website: Café Loki
Svarta Kaffið
This place is famous for one thing. Serving homemade soups in a bread bowl. Usually, there are just two soup options to keep it simple for you to choose: Meat or Veg and keep in mind that you can eat the bread bowl, so it fills you up fast. A very hearty dining option, and to put it simply, this is food that warms our soul.

The staff is always friendly and welcoming, but keep in mind that this is a pretty small place, so it fills up fast. This Café is a pretty good stop for your wallet too.
Opening hours: Monday – Saturday 11:30 – 22:00, Sunday 12:00 – 22:00
Website: Svarta Kaffi
Sæta Svínið Gastropub
This fun place, literally next door to Fjallkonan, serves good food in a lively environment, and the service is always done with a smile.
They have three floors to choose from, so if you want a romantic setting, I would suggest the 2nd floor, but if you like the buzz and excitement, stay on the 1st floor.
There I would choose the delicious Lamb shank, or if you want to share, I would suggest the slow-cooked lamb shoulder.
Opening hours: 11:30-23:00
Website: Sæta Svínið
Messinn
We highly recommend this moderately priced restaurant, which shouldn't be missed. The restaurant specializes in seafood and is open both for lunch and dinner. Their speciality is their fish pans, but their plokkfiskur and seafood pasta are excellent as well.
The restaurant is situated in a basement of a house in Lækjargata, so make sure to look out for it!
Opening hours: Monday to Sunday 11:30 – 22:00
Website: Messinn
Sushi Social
For those who want to be a bit more cosmopolitan, we recommend you check out the fusion restaurant Sushi Social. They offer a unique fusion of Japanese and South American cuisine combined with the freshness of Icelandic ingredients.
You can choose from a few set menus, as well as buy what you fancy. Even those who aren't really into sushi can find something they like. Grilled salmon, lamb rump steaks, chicken, beef tenderloin, and more is on the menu.
Of the set menus, we recommend sushi & beef and Omakase menus, for those who are adventurous can try out the Icelandic feast, where puffin and whale are on the menu.
Opening hours: Sunday to Thursday 17:00 – 23:00, Friday to Saturday 17:00 – 00:00
Website: Sushi Social
Kastrup
Not to be confused with the Copenhagen airport, this Nordic bistro-style restaurant began as a pop-up restaurant but turned out to be so popular the decision was made to keep it open. If you want cheap food, this is not for you as it is in the higher range of prices. However, what you get for your buck is extremely good.
Choose from small courses such as Argentinian shrimp, calamari fritti and more, main courses such as wild mushroom risotto, pan-fried Arctic char, baccala, beef tenderloin and more or various different kinds of smørrebrød. The traditional open-faced Danish sandwich will not disappoint.
Opening hours: Every day from 11:45 – 23:00. Kitchen open Sun-Thu to 21:00, Fri-Sat to 22:00.
Website: Kastrup
---
While there are still many other amazing options out there to choose from, these are some of our top picks, and we hope you find them as amazing as we do!
If you are looking to try some foods while in Iceland, check out our Reykjavik Food Tour
Please signup HERE for our newsletter for more fun facts and information about Iceland!