One of the first things to come to mind for many when thinking about Iceland – apart from fire and ice – is how expensive it is. But is it that expensive compared to other nations?
Well, yes. It is relatively expensive, but maybe the thing to look at here is that it is not the *most* expensive country in the world. An average trip to Iceland will cost you between $100 and $200 a day. So, for a week-long holiday, you can expect to spend between $700 and $1400.
It is also possible to get away from Iceland without burning a hole in your pocket.
The Icelandic Currency
It might surprise you that a country of 360.000 people has its own currency. Icelanders began issuing their own banknotes in 1885, after 11 years of living with the Danish krone. However, the Icelandic króna was pegged to the Danish krone until the first world war.
Icelandic banknotes might look a bit like monopoly money for Americans. But we assure you that it is a real currency! You might not even need to use it when travelling here since 99% of places have card machines, and some don't even accept coins or banknotes.
But in some cases, as you go to a market like Kolaportið or a fresh produce market, you might have to bring cash.
Today's legal currency includes 1kr, 5kr, 10kr, 50kr and 100kr coins, and 500kr, 1000kr, 5000kr and 10000kr banknotes. 1000 ISK is about $8, £6 and €7.
Gas Prices
Rising gas prices affect worldwide, and since Iceland is a part of the world, the prices have grown quite a bit here as well.
It is worth noting that we sell gas by the litre. One litre is about 0.26 gallons.
The gas price varies a bit between places, and it is generally more expensive in the countryside than in Reykjavík and the capital area. The prices typically range from $2.20 to 2.40.
However, you can check this site for up-to-date gas prices between stations, and you can also search between gas and diesel.
General food prices
Gas prices don't really say much about the general prices in Iceland – apart from that, it is probably a bit expensive.
If you travel around Iceland in a camper van or on a camping ground (which is an excellent choice to cut down costs), it is good to know what things like milk, bread and fruit, for example, cost.
Bónus supermarket is consistently the lowest-priced store in Iceland. Possibly ironically, the supermarket in Iceland is often the most expensive one. For another cheap option, Krónan has the second lowest prices. However, Kjörbúðin, the supermarket you will find in most towns around Iceland (apart from Bónus), ranges among the most expensive ones.
Whole milk (1 litre): Prices range from $1.5 – 1.7
Bread (samlokubrauð): $4.9 – 5.6 (sourdough bread can cost up to almost $8)
Red apples (per apple): between $0.5 – 1.1
Hamburger meat (4 in a pack with bread): $8 – 10
Icelandic hot dogs (5 in a pack): $3.8 – 7.5
Chicken fillets (1kg): $14-22
Restaurants in Reykjavik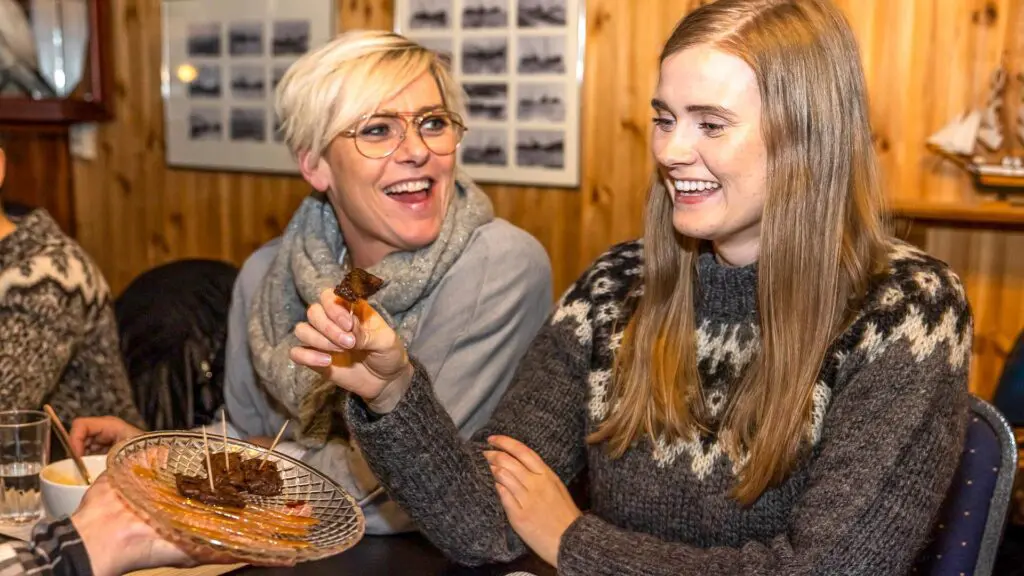 Eating the locals' food and going to restaurants are one of the most important things to try when in Iceland. We recommend you join us for a Food Lovers tour to taste Icelandic food with fun people!
The price for a meal at an inexpensive restaurant in Reykjavik ranges between $15 and $31, so it's quick to add up if you go out every evening.
For a three-course meal at a mid-range restaurant, you will have to pay between $80 and $200.
Alcohol in Iceland
Alcohol in Iceland is expensive, and we always recommend people use their allowance in the Duty-Free shop when they land. If you don't have a chance to do that, you can use one of Iceland's liquor stores. You will not find alcohol in general supermarkets in Iceland. The beers you see there are all 2.25% or lower.
Then there are the bars, they are the most expensive ones. But you can get away with going out without spending too much cash if you use the many happy hours there are on offer. There is even an app which we highly recommend you download! You could also travel around the island, trying out all the craft breweries!
Beers are generally sold in 0.5 litres at bars, and their (non-happy hour) prices are around $9.3-11.
What are the rent and salary like?
So here it is where we get into a bit of a pickle. Icelandic housing prices are rising and rising fast. With them, the rent goes up because we do not have any kind of rent control. But, of course, other countries have the same problem, and this wholly depends on where you're from.
The average price for a 1-bedroom apartment in Reykjavik City Centre, for example, is about $1650. However, the same apartment style in New York City costs about $3300.
The cost of a 3-bedroom apartment in Reykjavik City Centre is about $2300, and outside the city centre, it is about $1950.
With an average salary of $3800 (after taxes), it can be hard to rent on your own. Most salaries range between $2800 and $4000 (after taxes).
Please signup HERE for our newsletter for more fun facts and information about Iceland!