The Icelandic Elves and humans aren't always friends in Icelandic folk tales. Often they try to trick people into doing their bidding, enchanting or simply kidnapping them. Many of the stories involve some person trying to rescue the one that was kidnapped.
The Bishop and The Elves is one of those stories.
Read other legends and fairytales:
The Bishop And The Elves
A bishop, traveling to visit the various parts of his diocese, took with him, among other servants, as was the custom in those times (for this was long ago), a maidservant to cook his meals for him. One evening he rested and caused the tents to be pitched and the camp for the night to be made upon a certain mountain.
The following day the maid was missing. A search was made for her, high and low, far and wide. But it was all in vain, and the bishop shrewdly suspected the elves had stolen her.
Now he had in his retinue of servants a certain man, who, from his great stature and strength, went by the name of " John, the Giant." Accordingly, he called John the Giant to him and said:
"Sit you here, upon my bed, while I go out, and do not stir for an instant from the tent. If the maid comes in, seize her and hold her fast; above all things, do not let her go till I return, however much she may struggle, and however much she may beg. Take care, too, how you believe what she says, for to deceive you into leaving her free, she will not stick at a lie."
With these words, the bishop took his staff and, going out, drew with it three circles, one within the other, on the ground outside the tent, and went away without anybody seeing what direction.
Meanwhile, John the Giant sat upon the bed and waited, listening and looking intently, but moving neither hand nor foot. After a bit, the lost maid appeared near the tent, without shoes on her feet. She ran in and went up to the pillow of the bishop's bed as if to get something from underneath it. But John the Giant was too quick for her; he stood up, flung his arms around her, and held her tight.
At first, she begged him to let her go, saying that the bishop had sent her and that she must make haste back to him again. Then, as soon as she saw that John the Giant turned a deaf ear to all her requests and did not believe or care for a word she said, she began to struggle and fought so sturdily that it was almost more than he could do to hold her.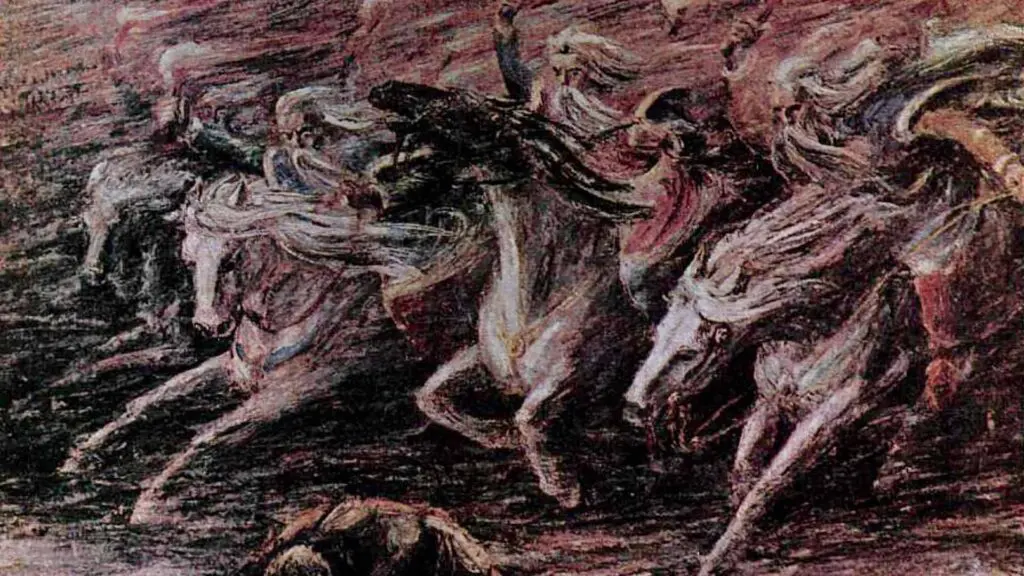 Just then, the other servants saw twelve mounted men, dressed in blue, ride towards the tent. They stopped suddenly as if they had been shot when they came to the circles drawn around it and immediately vanished away.
For these were magic circles the bishop had made with his holy staff, and nothing evil or ungodly could pass beyond them.
Soon afterwards, the bishop returned and told his serving men to bind the maid until her temper was less perverse. Then he again went away, and the girl came to her own good senses again before long. When the others saw this, they asked her to tell them what had befallen her and how she had left the camp without awakening anybody.
She declared that in the night, a man had come to her bedside, taken her hand, and led her out, not knowing why or where they were going till they came to a certain mound, into which they entered. There she found many people assembled in a large hall, at the end of which was a raised dais, with many women collected together upon it. These women had made her go to bed and placed a spinning wheel and bundle of hemp beside her couch, bidding her to spin it when she awoke."
But," she said, "in the morning, the bishop came to my bedside with his staff in his hand and bade me run back here and fetch his keys from under his pillow. I rose and ran in such haste that I had not even time to put on my shoes."
And this was the end of the matter. The bishop returned soon afterwards, not ill-pleased with his morning's work. He was skilled in magic and the like. Being a very holy man and a right determined one to boot, he had played the elves a pretty trick that day in getting his maidservant out of their hands almost as soon as they had got her into theirs. And, as far as that went, he could have done it a hundred times just as easily as once; and differently each time.
Please signup HERE for our newsletter for more fun facts and information about Iceland!