Check out our post on film locations in South Iceland when you have finished checking out this post on filming locations in North Iceland.
Icelanders love seeing Iceland in films, and we generally do recognise it, even if it has been changed with CGI as in Prometheus or Star Wars. Sometimes, though, film-makers use an entirely different country to depict Iceland, which is a bit like watching Pierce Brosnan (or other actors, for that matter – we're looking at you Mighty Ducks: D2) trying to speak Icelandic; funny, weird and a bit sad because there are loads of people who could have taught him better!
But! We're still proud of it, Iceland is such a small country, and we like it when people pay attention to us. So on we go; check out the list below of filming locations in North Iceland!
Star Wars Force Awakens (Hoth)
Star Wars director JJ Abrams did not only use Eyjafjallajökull Glacier as the background setting for Hoth but also Mývatn Lake and Víti Crater. It is hard to recognize the locations as Icelandic, but according to the people in the know, they were used!
Noah
If Svínafellsjökull is the Hollywood glacier, then Mývatn and the surrounding area are definitely the Hollywood location of North Iceland since many films have been shot there.
The 2014 film starring Russel Crowe was largely filmed in Iceland. Apart from Reynisfjara, Raufarhólshellir Cave, and Kleifarvatn in South Iceland, they also shot scenes in Mývatn.
Game of Thrones
Game of Thrones used many locations in Iceland to depict their world. In our post about Film Locations in South Iceland, we covered quite a few, but there are a few in North Iceland.
Mývatn and the surrounding area were used in several episodes but under different guises. In Season 3, Mance Rayder and the Free Folk set up camp in Dimmuborgir, a beautiful lava field next to Mývatn Lake.
Also, in Season 3, Jon Snow and Ygritte enjoy an excellent time in Grjótagjá Cave. It used to be safe to bathe in, but much hotter water started pouring in after a few earthquakes. And due to the TV show's popularity, landowners were forced to close the cave for safety. The waterfall seen in the scene was added in post-production, though.
At the beginning of Season 3, we see Samwell Tarly fighting his way through a formidable storm after escaping the army of the dead. The wintery wasteland was created by utilizing the natural steam from the geothermal vents at Námafjall Geothermal Area.
Prometheus
At the beginning of the Alien prequel Prometheus by Riddley Scott, we see a large humanoid person drink black goo and fall into a huge waterfall. That waterfall is Dettifoss waterfall, a part of the Diamond Circle in North Iceland.
The waterfall is one of, if not the most, powerful waterfalls in Iceland. It is often said to be the most powerful waterfall in Europe, but that's sadly not true.
The waterfall is a spectacular sight, but be careful and stay on the paths.
Trapped
The Icelandic TV show Trapped is set in Seyðisfjörður in East Iceland. However, many scenes in the first season were shot in Siglufjörður in North Iceland. Such is the magic of cinema! Siglufjörður was the herring capital of Iceland and a booming town in the 1960s until fishermen overfished herring and it disappeared.
Oblivion
The 2013 film Oblivion was shot in part in Iceland. Iceland stood in for a future Earth ravaged by alien conflict. One of the shooting locations was Hrossaborg, a crater about 500m (1640 ft) in diameter. It used to be almost perfectly circular, but it has been distorted due to floods.
The crater is located just off the Ring Road, but since it is an F-road (F-88), it is only reachable on a four-wheel drive car during the summer months. It is not far away from Dettifoss.
The Tree of life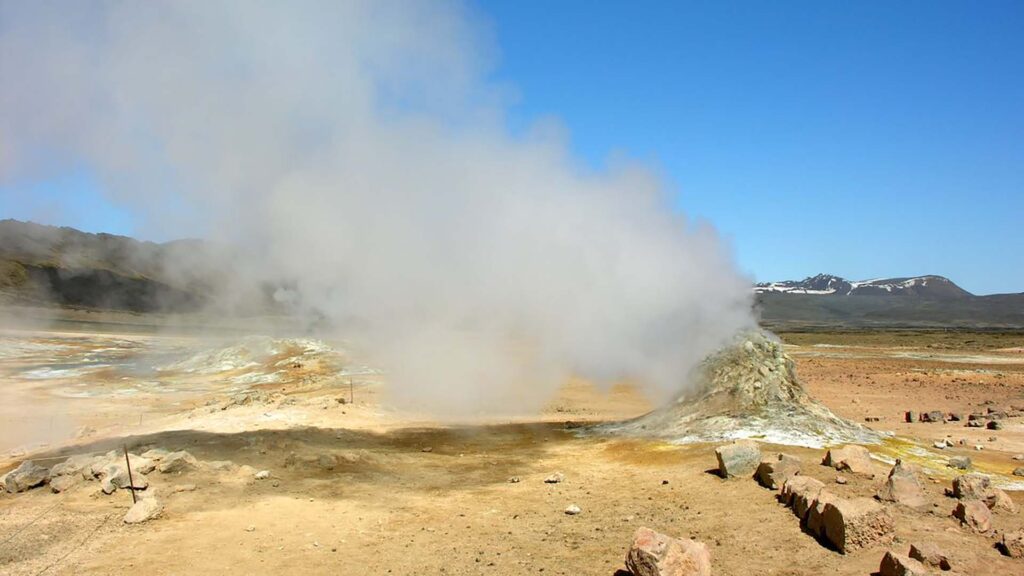 The Tree of Life is another film that used Krafla volcano and Námafjall, near Mývatn, as a location. You can see it at the beginning of the film. The film is about the origins and meaning of life, and Iceland was used to represent the young earth.
Fast and furious 8
The eighth installment of the Fast and Furious franchise was partly shot on and around the Hollywood Lake of North Iceland; Mývatn.
When the scenes were shot in 2016, they were a part of the largest and most expensive movie project in Icelandic history.
Eurovision Song Contest: The Story of Fire Saga
Last but not least, the Eurovision Song Contest: The Story of Fire Saga was shot in Húsavík, North Iceland. Húsavík is often called the Whale Watching Capital of Iceland and now boasts a Eurovision Museum, all thanks to the film.
The main characters, played by Will Ferrell and Rachel McAdams, are from Iceland, and their biggest dream is to take part in the Eurovision Song Contest. Many of the most fun scenes in the film are set in Iceland.
We hope you liked this list of filming locations in North Iceland – did we forget any? Let us know below!
Please signup HERE for our newsletter for more fun facts and information about Iceland!