Iceland has been a popular filming location for a few years now. Most films have been shot in South Iceland, and it would make a great trip to check out all the locations.
Everything from Skógafoss to Jökulsárlón has been popular filming locations and most definitely continue to be so. Seeing where that scene in your favourite movie or TV show was filmed is an exciting way to explore our beautiful country.
So without much further ado, let's dive in the Film Locations in South Iceland
Rogue One: A Star Wars Story
The shooting locations for Rogue One: A Star Wars Story in Iceland were Mýrdalssandur, Reynisfjara Black Sand Beach, Hjörleifshöfði and Hafursey. The locations are all in roughly the same area, so they're easy to visit.
Reynisfjara Black Sand Beach hardly needs to be introduced. It is one of the country's most popular shooting locations and sightseeing spots, and understandably so. The beautiful black sand beach stretches quite a distance, with columnar basalt on one end and Dyrhólaey bird cliff on the other.
Mýrdalssandur is an outwash plain from Mýrdalsjökull Glacier. Once one of the largest deserts in Iceland, it is not mostly covered with lupine. The plain is located between Kúðafljót and Múlakvísl rivers, which both carry meltwater from Mýrdalsjökull. It has a 35 km (22 mi) long coastline and includes Kötlutangi, which is the southernmost tip of Iceland. The plain represented the planet Lah'mu at the beginning of the film.
Hjörleifshöfði Cape is a 221 m (725 ft) high inselberg and is located on Mýrdalssandur. Once upon a time, it was an island. It is named after Hjörleifur Hróðmarsson, brother-in-law of Iceland's so-called first settler Ingólfur Arnarson. Hjörleifur settled at Hjörleifshöfði at the end of the 9th century but was murdered by his slaves who then fled to the Westman Islands.
Hafursey Island is also an inselberg in Mýrdalssandur. The triangular mountain stands at 582 m (1909 ft) high and was formed during the Ice Age. At that time it was an island (hence the name) but due to many jökulhlaups (glacial outburst floods) of the volcano Katla, it is now part of the outwash plain of Mýrdalsjökull.
Star Wars Force Awakens (Hoth)
The scenes in Star Wars: Force Awakens taking place on the icy planet Hoth were filmed on Eyjafjallajökull Glacier. The infamous glacier became world-famous when it erupted in 2010, and the ash cloud stopped much of Europe's flight traffic.
Game of Thrones
Many scenes in Game of Thrones were shot in Iceland and in every season. In South Iceland, scenes were shot in Þingvellir National Park, in the Hengill geothermal area, on Svínafellsjökull Glacier (part of Vatnajökull Glacier), Dyrhólahey, Stakkholtshjá Canyon, Mýrdalsjökull Glacier, and Skógafoss waterfall.
Almannagjá in Þingvellir was the setting for The Bloody Gate in season 4, an ancient fortification guarding the entrance to Eyrie.
The fighting scene between Brienne and the Hound in season 4 was shot in Hengill Geothermal Area near Nesjavellir
Dyrhólaey was used as the Eastwatch-by-the-sea in season 7.
In episode 6 of season 7, Jon Snow and company capture a wight in a snowy area, which was shot in Stakkholtshjá by Eyjafjallajökull Glacier.
Mýrdalsjökull Glacier was used as the location for the Night's Watch in season two when they trek through the Frostfangs to reach the Fist of the First men in hopes they'll gain a vantage point over their wildling enemies. The glacier is Iceland's fourth largest and the home of Katla, Iceland's largest and possibly most dangerous volcano.
Svínafellsjökull has been dubbed the Hollywood glacier because so many films and tv shows have been filmed there. You will see the glacier mentioned a few times more in the post. Miscellaneous scenes North of the Wall were filmed on the glacier. Scenes with the armies of the undead, wildlings and Night's Watch were filmed there throughout the second and third seasons.
In the first episode of season 8, you can see Skógafoss. Jon Snow and his lover share a beautiful moment in a special location when they have flown a dragon through the winter landscapes of the North.
Interstellar
Svínafellsjökull Glacier wasn't featured for a long time in the Christopher Nolan film. It was, however, heavily used on posters and in trailers for the film, showing Matthew McConaughey walking across hostile, wintry terrain.
Máfabót, just south of Kirkjubæjarklaustur, was used as a location for Miller's World, the watery world they visited in the film.
The Secret Life of Walter Mitty
Much of Ben Stiller's The Secret Life of Walter Mitty was filmed in Iceland, even if it was supposed to happen in Greenland, Afghanistan or the Himalayan mountains. In South Iceland, the airport at Höfn in Hornafjörður is used as the Nuuk Airport of Greenland.
Kálfafellsdalur and Fjallsárlón by Vatnajökull Glacier appear as Afghanistan in the movie. Vatnajökull is a part of the huge Vatnajökull National Park, the largest in Iceland. Fjallsárlón is Jökulsárlón's smaller cousin, and you can now actually sleep ON the lake! How cool is that?
Walter also sees Eyjafjallajökull erupt as well as walks past Skógafoss waterfall.
Batman Begins
Christopher Nolan's Batman Begins begins on Svínafellsjökull. It can be said that Nolan began the trend of using the glacier as a filming location. It is easily hiked and accessed, making it a pretty good place to use when you need icy terrain. Vatnajökull is definitely one of the more popular film locations in South Iceland.
Die Another Day, A View to a Kill and Tomb Raider
These three films all had scenes shot on or near Jökulsárlón Glacier Lagoon. The opening scene to the Roger Moore James Bond film A View to a Kill was filmed on and near the lagoon – standing in for Siberia.
The Jökulsárlón's scene in Die Another Day is probably more famous as it was much longer and included a car chase as well!
Tomb Raider (2001) was a treat for us Icelanders. Iceland wasn't yet on the map as an "it" location to visit so seeing it in a film with the fabulous Angelina Jolie was very exciting – even if it was supposed to be Siberia.
Prometheus
Dettifoss Waterfall is probably the most famous location from Prometheus. However, many people don't know that Dómadalur near Hekla Volcano was also used in the film. It was the setting for the desolate planet they all land on and where most of the film takes place. To be fair, it was mostly just the soil they used as the surrounding landscape is CGI.
Flags of our Fathers
The critically acclaimed Clint Eastwood film Flags of our Fathers was party filmed in Iceland. The film is about the Battle of Iwo Jima, the five Marines and one Navy corpsman who were involved in raising the flag on Iwo Jima, and the after-effects of that event on their lives.
Sandvík on the Reykjanes Peninsula serves as the setting of Iwo Jima
Stardust
Scenes from the 2007 fantasy film Stardust were shot in Stokksnes or Vestrahorn near Höfn in Hornafjörður. The director wanted a black sand beach, and sharp mountains and Stokksnes was a perfect location. Today, the area is a very popular place to get your beautiful Instagram photo.
Captain America: Civil War
Jökulsárlón was a stand-in for Siberia in both James Bond and Tomb Raider. In Captain America: Civil War, the mountains near Vík in Mýrdalur got that part.
Thor: Dark World
Another Marvel Film which was partly shot in Iceland was the second Thor film, Dark World. Skógarfoss can be seen in Ásgarður while some of the more desolate areas of the Svartalfsheim were shot in the Icelandic highlands.
Justice League
It's not only Marvel's superhero movies that have been filmed in Iceland. DC wanted to get in on the action as well, understandably, and Aquaman's world was filmed in Iceland. His hometown was actually in the Westfjords, which we will get to in another blog post, but Bruce Wayne had to traverse Fjallsjökull in Vatnajökull Glacier to reach Aquaman's home.
Star Trek: Into Darkness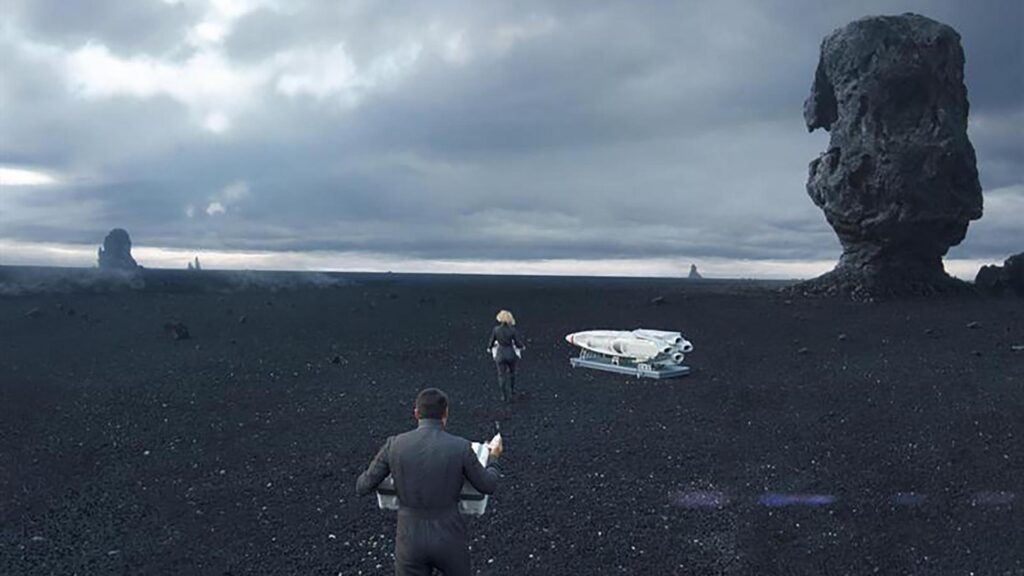 Iceland was chosen as a location the first time a Star Trek film was shot outside the US. Reynisfjara Black Sand Beach was chosen as the location for a faraway planet. While the Enterprise is called back home, Captain Kirk and his crew discover the presence of terror forces within their own organization. In the scene shot in Iceland, McCoy and Carol Marcus open a prototype torpedo, and the planet featured is the result of a scene shot on a black gravel patch and special effects integrating photos of Reynisfjara Black Sand Beach.
Eurovision Song Contest: The Story of Fire Saga
Ok, it probably doesn't come as a surprise that many scenes of the Eurovision Song Contest film were shot in Iceland as the main characters are supposed to be Icelandic. Of course, a lot of them are filmed in Húsavík in North Iceland, but we'll get to that in another blog post about the filming locations in North Iceland. The most famous scene outside of Húsavík is the one in Reykjanes Peninsula in the video for Volcano Man.
The Northman
The Northman, an epic historical action thriller directed by Robert Eggers, was shot in Iceland. The screenplay was co-written with Icelandic author Sjón.
The film is based on the legend of Amleth and starfs Alexander Skarsgård, Nicole Kidman, Claes Bang, Anya Taylor-Joy, Ethan Hawke, Björk and Willem Dafoe.
Only two places in Iceland were used in the film, despite it being set in 10th-century Iceland. The rest of the epic was shot in Northern Ireland. And where do you think they filmed in Iceland? Of course, on the Hollywood glacier Svínfellsjökull. The other Iceland location was Akureyri in North Iceland.
This concludes the list of Film Locations in South Iceland. Check this post regularly because we will be adding entries to the list!
Please signup HERE for our newsletter for more fun facts and information about Iceland!