There are a few seafood restaurants in Reykjavik, but oddly there are not that many which focus solely on seafood. But that's good for those in a group of people who have a varied taste palate!
For centuries, Iceland's main industry has been fishing. That is understandable, as Iceland is an island, and we have quite an abundance of fish. That means you can get fresh fish here in Iceland, and many restaurants pride themselves on the freshness.
We have already made a list of the best vegan and vegetarian restaurants, the best steak restaurants and the generally best restaurants.
The Sea Baron
The Sea Baron by the Old Harbour is a fabulously fun place to visit. Many claim they serve the best lobster soup in Iceland, at least. They also offer grilled fish spears. The species of fish changes depending on what they offer, but they generally have cod, blue ling, salmon, trout, tiger prawns, wolf fish, red sea perch, plaice, and minke whale.
Then you can, of course, get fermented shark, and before Christmas, they have fermented skate. You visit the Sea Baron on our Reykjavik Food Lovers tour, which is a great way to get to know Icelandic cuisine. Without being biased, we feel the Sea Baron is one of the best seafood restaurants in Reykjavik.
The Sea Baron
Geirsgata 8
101 Reykjavik
Opening hours: Mon-Sun 11:30-16:00 and 18:00-22:00
Messinn
Messinn is a seafood restaurant in downtown Reykjavik. They specialize in fresh seafood, which they offer for lunch and dinner every day of the week. Messinn's specialty is their fish pans, but they serve freshly cooked fish straight from the kitchen, along with potatoes fried in butter and vegetables. A great dish to share with others.
If you are traveling outside Reykjavik, they also have a restaurant in Selfoss.
Messinn means "The Mess Hall," like on fishing ships.
Messinn
Lækjargata 6b
101 Reykjavik
Brúarstræti 6a
800 Selfoss
Opening hours: Reykjavik – Every day 11:30 – 22:00, Selfoss – Mon-Thu 11:30 – 21:00, Fri-Sat 11:30 – 22:00, Sun 17:00 – 21:00
3 Frakkar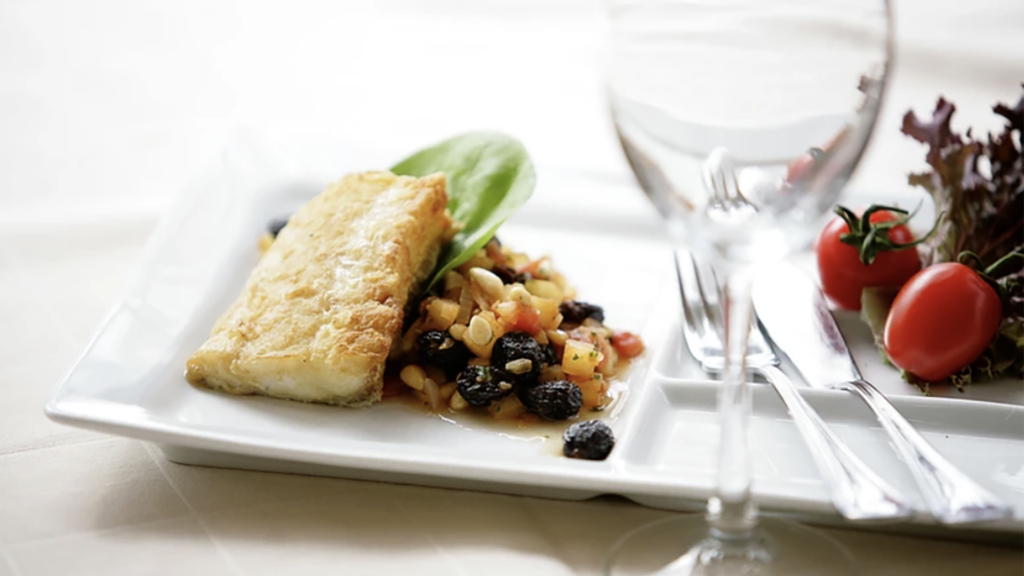 We have mentioned 3 frakkar before in our blog about strange food, for example. Nestled in a residential area not far from downtown Reykjavik, this excellent restaurant offers everything you want to try in Iceland, from horse meat and whale to puffin, fermented skate, and more. But the restaurant is mainly known for its seafood dishes.
The restaurant opened in 1989 and has been run by the same family since then.
3 frakkar
Baldursgata 14
101 Reykjavik
Opening hours: Mon-Fri 11:30 – 14:30 and 18:00 – 22:00, Sat-Sun 18:00 – 23:00
Seafood Grill
On Skólavörðustígur, between Hallgrímskirkja church and Rainbow Street, you will find the Seafood Grill. The owner Gústav Axel is from Húsavík, the whale-watching capital of Iceland. He has been interested in food since he was a kid, and his dream was always to own his own restaurant. He traveled to every corner of Iceland to find the best way to grill, but Icelanders are known for their love of the grill. Some people jest that you always know where Icelanders live abroad because we keep the grill on the balconies all year round.
You can get fish of the day, shellfish pasta, salt fish, shellfish soup, grilled fish combo, deep fried plaice, and more. For those keener on meat steaks than fish steaks, there's also something for them, such as beef tenderloin and cheek, leg of lamb, and lamb shoulder.
For those who feel both adventurous and peckish while waiting for the food they ordered, it is possible to order a few bites of fermented shark.
Seafood Grill
Skólavörðustígur 14
101 Reykjavik
Opening hours: Mon-Fri 11:30 – 14:30 and 17:00 – 22:00, Sat-Sun 17:00 – 22:00
The Fish Market
The Fishmarket opened in 2007 in a historical building in downtown Reykjavik. The owners, Hrefna and Ágúst focus on offering high-quality products from Icelandic ingredients combined with a cozy atmosphere.
The restaurant has a delicious wine bar which is perfect for those who want to get a quiet drink with friends or loved ones. Then you can, of course, enjoy a delicious dinner, either in the hall or private room.
On offer is fried mink whale, tuna taco, seafood soup, various sushi, scallop, halibut steak, lightly salted cod, and more. Those who are fonder of meat steaks won't be disappointed.
The Fish Market
Aðalstræti 12
101 Reykjavik
Opening hours: Every day 17:30 – 22:30
Do you know of other seafood restaurants you feel should be on the list?
Please signup HERE for our newsletter for more fun facts and information about Iceland!