When you visit Iceland, you don't have to be a cat person to appreciate the fondness many of us have for our feline friends. From our ancient folklore to our social media, you'll discover cats have a special place in Iceland. Even the famous author Haruki Murakami wrote about our love of cats in an article for a local publication. (It is in Icelandic, but Google Translate can help!)
We have a specific Icelandic breed as we do with our sheep and horses. And there are also claims of a lost Iceland cat breed… But these fabulous balls of fur are as unique as we are, so let us share with you the kitty delights you can have when you explore Reykjavik and Iceland!
You say "Kitty", we say Kisa
Of course, Icelandic has a different word for everything, but you'd be surprised how the sounds are similar. So, whether he's a Högni or a lady Læða, one Köttur (or Kött or Ketti or Kattar) or many Kettir (or Ketti or Köttum or Kattar), cats here say mjá- mjá (or meow-meow to you!).

Kisa is what we call "kitten", but it is also the name of a fairy tale that many English sources claim come from Iceland. Basically, Kisa helps her queen have a princess, but the princess was kidnapped by a giant who then cut off her feet. Kisa the cat rescued her, then rescued her feet and made the princess whole. It later turns out she, too, was a princess under a curse that could only be lifted by doing a good deed that had never been done before. Rescuing a princess and her feet definitely qualified!
Our Christmas Cat is one of a kind
As with everything else we do, we have our own unique way of celebrating Christmas. There are our mischievous Yule Lads and their child-eating parents who make sure we stay good boys and girls (for a little while, at least!). And then there is Jólakötturinn, the Icelandic Christmas Cat. It, too, searches the land during yuletide for people to eat. But it has very specific tastes. It will eat old and young alike, but only those who haven't yet received new clothes. It doesn't have to be a new outfit; even just one sock will keep the Christmas Cat from snacking on you!
Iceland Cats on social media
Never mind LOLCats or Smudge the cat with that yelling woman – Iceland has its own social media outlets for our love of kitties. Spottaði kött is a Facebook group of almost 22,000 members sharing their favorite cat pics from all over the country. It is mainly in Icelandic, but we all speak international cat appreciation! And although it is no longer on the air, you can still catch moments from our "Keeping Up with the Kattarshians" on YouTube and Facebook. Here you can check out the four or five cats that mesmerized viewers from their little house at a cat shelter, encouraging adoptions.
Of course, we have a Cat Café!
You may not be able to get your cat fix, or cat nip, from the Kattarshians, but you can get up close and personal with lovely felines looking for a home at Kattakaffihúsið or the Cat Café. Enjoy a cup of coffee and a sweet treat and get some purrfect therapy with the denizens roaming and lounging all around. You may not be able to adopt one of these sweet cuddlers, but there is plenty of merchandise to take home as a souvenir from the shop! You'll also be helping Villikettir, a local animal shelter.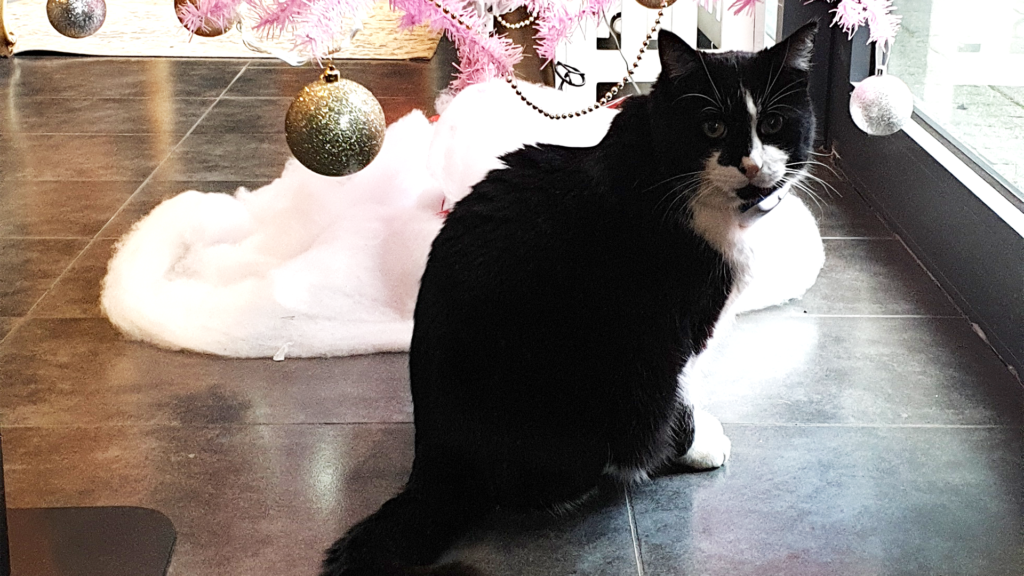 Another local business that supports Villikettir is Gyllti Kötturinn boutique, which has a famous feline of their own. Baktus the Cat lives in the shop, drawing as much attention, if not more, than the vintage items on sale. So, Baktus' human created an Instagram account for him, now with over 13,000 followers. And this account came in handy when he was catnapped for almost a day a few years ago. But he was returned, safe and sound and happily updating his Insta!
Let Your Friend in Reykjavik show off our fabulous cats
Want to experience a fur-tastic encounter with our friendly felines? Want to learn more about the cats of Iceland, real and made-up? Join Your Friend in Reykjavik on our Cattastic Walking Tour of downtown Reykjavik. We'll take you to the stalking grounds of our cats, and we may even get an audience with Baktus, as well as other famous kitties, like Ófelía, who welcomes visitors to a local store. Along the way, you will also get the chance to check out Reykjavik Pond and the Einar Jonsson Sculpture Garden. You can also experience this as a private tour. Contact us today to book your spot!
Please signup HERE for our newsletter for more fun facts and information about Iceland!